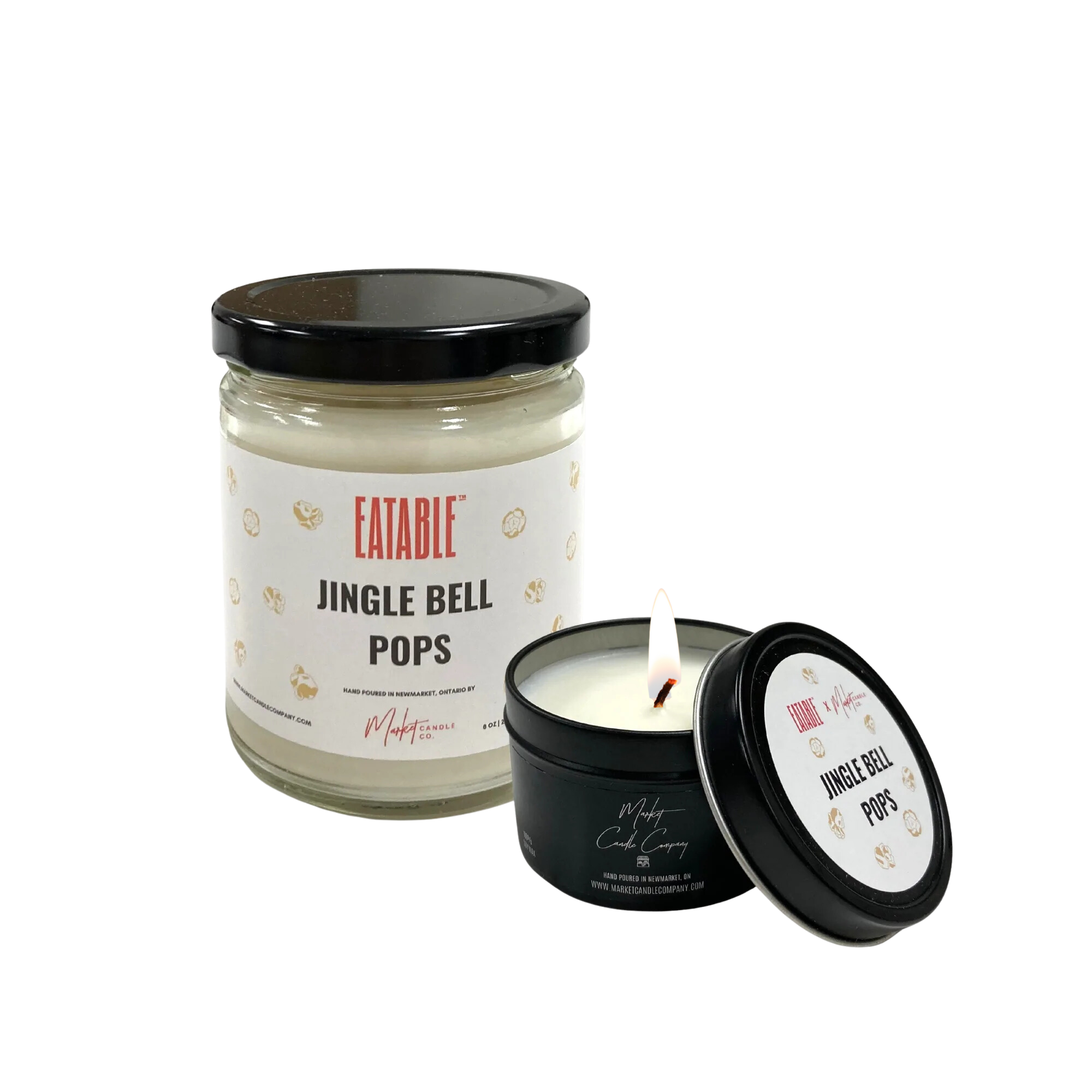 EATABLE x MCC: Jingle Bell Pops - 100% Soy Wax Holiday Candle
Description
Shipping
Guarantee
It's starting to smell alot like Christmas... Our Signature Holiday flavor "Jingle Bell Pops" is now in a form that's ready to get lit!

We've partnered with our friends at Market Candle Company (Newmarket, Ontario) to create a custom scented candle to bring the sweet aromas of the Holidays into your home, and keep it burning long after the snacks run out.
Jingle Bell Pops is our limited edition Holiday candle featuring notes of butter popcorn, white chocolate, and crisp peppermint.
Wax Candle | The Market Candle Company:
4 oz tin with 15+ hour burn time
8 

oz jar with 30+ hour burn time

Soy wax is a renewable source, made from soybean oil - It burns clean without soot or toxins in the air you and your family breathe

It burns at a cooler temperature than paraffin candles, allowing for a longer lasting candle

We only use high quality fragrance oils and no dyes, keeping the look neutral and clean.
Candle Care Tips:
To ensure an even burn / minimize the wax left on the sides, burn the candle until the wax pool reaches the edge of the jar. Usually about one hour per inch of diameter. This is especially important on your first burn as candles have a "memory".

Trim your wick to 1/4" before every burn! This will help you prevent soot, smoke and ruining your candle. This is an extremely important step that should not be missed.
Try to avoid burning your candle for longer than 4 hours at a time! This will cause too large of a flame and will reduce the lifespan of the candle. If you notice your flame is large or dancing, extinguish, let cool and trim the wick before every burn.




We offer free shipping for orders above $75. Most orders are shipped within 2-3 business days (Monday-Friday) of being placed. Fast shipping available to USA/Canadian customers.

Please see our FAQ page for more detailed information.
We offer a 30 Day Happiness Guarantee for new customers to try Eatable™ risk-free!
As a small business who takes pride in crafting our snacks with the highest standards, your happiness is our greatest compliment. It's important to us that you love your popcorn. If you experience an issue, we'll make it right, always.
Please email us at cs@eatable.com with your order number and details, and we'll gladly send instructions so you can claim a refund.
EATABLE x MCC: Jingle Bell Pops - 100% Soy Wax Holiday Candle
Our award winning popcorn has been featured in
Our EATABLE x MCC: Jingle Bell Pops - 100% Soy Wax Holiday Candle
Pairs perfectly with...
• Hot Chocolate • Charcuterie Boards • Holiday Brunch
Quality ingredients
We take our popcorn to the next level by carefully hand-sifting premium, non-GMO corn and adding unique, all-natural flavors. Our popcorn is the real deal: no artificial colours, flavors, sweeteners or preservatives.
Not-so-guilty indulgence
Get the kick without the buzz. Our snacks are infused with premium spirits, liquor and wine reductions that use traditional confectionery methods. With virtually zero alcohol content, you can feel good about snacking.
Consciously crafted
We snack away with pride and care about the home we share and call Earth. That's why we are proudly a Certified Plastic Neutral company and part of the proceeds from each purchase are donated to Second Harvest.
Why Eatable
Inspired by happy hour, crafted for good times.
Our popcorn's unique cooking process eliminates virtually all of the alcohol content, leaving the residual flavor notes from the drinks you love-without the guilt.


Discover the EATABLE Difference
Risk Free
Our 30 Day Happiness Guarantee.
Eatable™
was created with a mission to deliver the best snacking experiences, and your satisfaction is important to us. That's why we offer a 30 Day Happiness Guarantee for customers to try our popcorn risk-free.
In the unlikely event that your snacking experience was not up to your expectations,
contact us
with your order number and details, and we'll gladly send instructions to claim a refund.
Shipping to Canada & Usa
Free shipping over $75.
Orders of $75+ delivered to all Canadian provinces or the 48 contiguous states will qualify for free shipping.
In a rush? Upgrade to expedited shipping at checkout.

Please allow 2-3 business days for processing.
FAQ
Where is Eatable™ made?
Eatable™ popcorn is freshly popped weekly and hand-packed in our production facility in Toronto, Canada.
Does Eatable™ popcorn contain real alcohol?
Yes - real alcohol or natural alcohol-flavored extract is infused in our products. Most of the alcohol content gets burned off during our cooking process, leaving only the residual base flavour notes. The final product is virtually alcohol-free.
What is the shelf life of Eatable™?
Our popcorn remains fresh for 9-12 months from the date of manufacture when stored in an unopened bag at cool room temperature. Since we don't add any artificial preservatives in our products, we recommend enjoying your popcorn immediately once the bag is opened, and finish within one week to ensure the best flavour and texture. But we're sure you won't have too much trouble with that.
Where can I find Eatable™ in stores?
Eatable™ popcorn is available through our online store as well as over 200 retailers across Canada and USA. Check out our Retail Stores page to find a retailer near you.
Have more questions?
We've got answers! Check out our full FAQ page for answers to the most frequently asked questions.